Sarah S. Warren, Esq. Joins Bryant Miller Olive P.A.'s Tallahassee Office, Focusing on Public Finance With an Emphasis on Special District Financings
Location: Tallahassee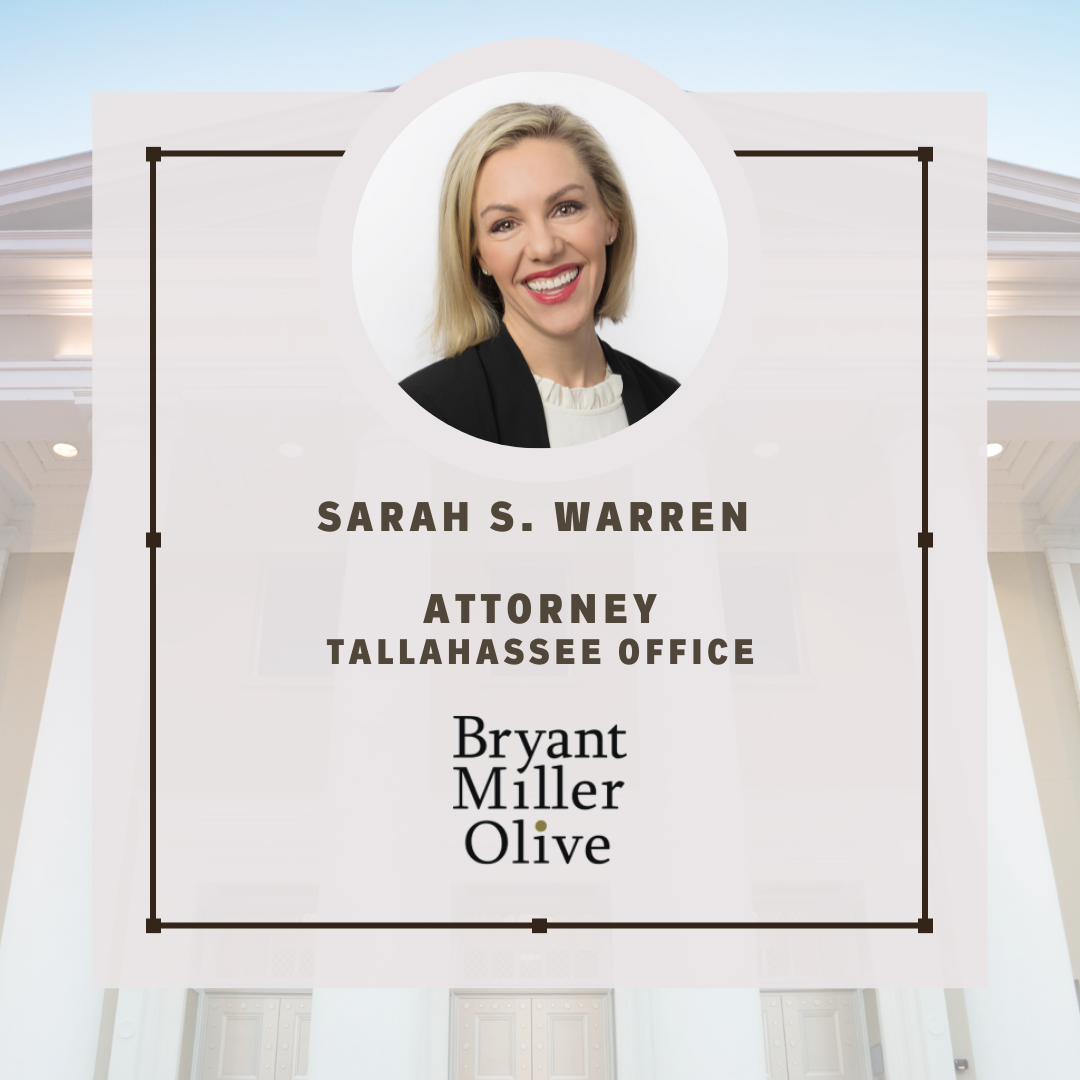 Tallahassee, Fla. (Jan. 26, 2022) Bryant Miller Olive P.A. (BMO) is pleased to welcome Sarah S. Warren as an attorney with the firm's Public Finance and Special District Finance practice groups, practicing in the firm's Tallahassee office.

Warren will represent BMO's local government clients in various public finance related matters, with a particular emphasis on community development district and stewardship district financings. Warren provides bond, disclosure, and underwriter's counsel representation in connection with taxable and tax-exempt public finance transactions, including new and refunding bond issues.

"Sarah brings valuable experience and knowledge in public finance to BMO, which is a core of our legal practice," said JoLinda Herring, Esq., BMO's CEO and Managing Shareholder. "Having previously represented numerous special districts throughout Florida, Sarah will increase the breadth and experience in BMO's Special District Finance Group."

Prior to joining BMO, Warren's practice focused on the planning, establishment, and general counsel representation of special districts throughout the State of Florida including serving as issuer's counsel to numerous community development districts and stewardship districts in connection with various types of financings.

Warren was previously a shareholder with the Special District practice group at Hopping Green and Sams, P.A. She also served as Assistant General Counsel for the Florida Department of Economic Opportunity where she practiced primarily in the areas of community planning and strategic business development.

Warren received her J.D. from Vanderbilt University Law School in Nashville, Tennessee. She holds bachelor degrees in English and Communications from Rollins College in Orlando, Florida.

For more information about Warren, visit https://www.bmolaw.com/sarah-s-warren. To contact Warren, email swarren@bmolaw.com.