New FASB accounting standards mean changes ahead for commercial real estate tenants
New accounting standards on the horizon from the Financial Accounting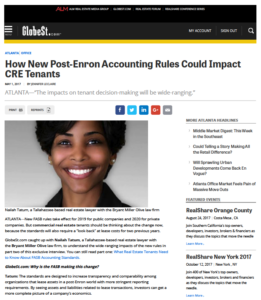 Standards Board (FASB) are expected to have a major impact on commercial real estate tenants.
GlobeSt.com, the nation's leading commercial real estate news website, recently caught up with Bryant Miller Olive's Nailah Tatum, who works with real estate owners, investors and tenants, to get her insight.
Nailah explained that the intent of the new standards, which take effect in 2019 for public companies and 2020 for private companies, is to give investors a more complete picture of a company's financial situation. The changes require companies that rent office, retail or industrial space to include the cost of any leases longer than 12 months on their balance sheets.
The lease payments will show up as a liability, while the right to use the real estate will be valued and reported as the corresponding asset. Both liability and asset figures will be amortized over the term of the lease.
Once these changes take effect, companies will be taking the new standards into consideration as they evaluate whether to lease or buy property. Also, they will need to factor the increased costs of more administrative and accounting responsibilities into their planning.
Nailah also anticipates that many tenants will start looking for ways to reduce the liabilities shown on their balance sheets. One option is a net lease structure that would keep variable costs separate from fixed payments, resulting in the reporting of a smaller fixed rental amount.
Finally, Nailah encourages tenants to start thinking about the changes now, even though they do not take effect until 2019-2020, because the new standards also will require a "look-back" at lease costs for two previous years.
It's also important to have legal assistance from professionals with deep experience in working on real estate matters. Nailah brought such experience to BMO when joining the firm earlier this year, and is helping a wide range of clients with both issues and opportunities.